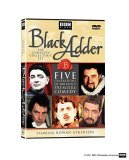 I received the DVD edition of Black Adder: The Complete Collector's Set
for Christmas this year, and have recently completed watching all episodes. This is some darned funny stuff! I'm a big fan of British comedy already (Eddie Izzard is one of my favorites), and am likewise a fan of Rowan Atkinson (more often known as Mr. Bean here in the US), so this was just perfect. Add to the mix Hugh Laurie (aka "House, M.D." from the Fox series), and you get a fairly complete picture of humor and inanity.
The first season wasn't nearly as good as seasons 2-4, I think because it was a new series just trying to establish itself. But, Atkinson really gets going well in the Blackadder II, ending spectacularly with the introduction of Hugh Laurie in the last episode ("remember the sheep?" "oh, no, that was you?!?"). HL plays a marvelous counter-lead throughout season III as the Prince Regent, with lots of funny faces. Atkinson is by this point very classic. And let us not forget Tony Robinson as Baldrick and his famous line "Sir, I have a cunning plan."
The BBC has pictures and interviews on their site, which you can check out here. Overall, this collection is highly recommended, if you like that sort of humor. :)