In July 2007 we (being Hanna and I) undertook our first big international adventure with a tour to Italy and Greece. As I'd never been to Europe before, we opted to do a managed tour with a company (Contiki) that caters to 18-35 year olds, which was preferable in our minds to tagging along with the oldies. :) We settled on the Rome, Sorrento, Athens tour while we were skiing at Crested Butte. It was a decent deal, all things considered, and a good time.

Two roads diverged in a yellow wood,
And sorry I could not travel both
And be one traveler, long I stood
And looked down one as far as I could
To where it bent in the undergrowth.

Then took the other, as just as fair,
And having perhaps the better claim,
Because it was grassy and wanted wear;
Though as for that the passing there
Had worn them really about the same.

And both that morning equally lay
In leaves no step had trodden black.
Oh, I kept the first for another day!
Yet knowing how way leads on to way,
I doubted if I should ever come back.

I shall be telling this with a sigh
Somewhere ages and ages hence:
Two roads diverged in a wood, and I--
I took the one less traveled by,
And that has made all the difference.
Robert Frost: The Road Not Taken (1915)
I've finally gotten around to posting pictures from my trip. I also had a few videos, mainly of the Musei Vaticani where flashes were not permitted. Oh, also, by popular demand, I have setup a Facebook site using my primary email address.
Our tour itinerary from Contiki was as follows

* Day 1: Depart for Europe
* Day 2: Arrive Rome
* Day 3: Rome
* Day 4: Rome
* Day 5: Rome to Sorrento
* Day 6: Sorrento - Isle of Capri
* Day 7: Sorrento to Adriatic Ferry
* Day 8: Adriatic Ferry to Athens
* Day 9: Athens
* Day 10: End Athens
The rest of this blog entry (extensive as it is) will follow this itinerary outline as I reflect on our time abroad. Before I launch into that, however, I just want to say that we really enjoyed our trip, and are in fact actively planning our next adventure abroad. We would ideally like to spend a month or more in Europe, though we may also like to live abroad, such as in Germany. Only time will tell where we'll end up, though I assure that we'll be selecting our own path, and hopefully following the one less traveled by.

Before I start out, let me first mention that I've added a ton of reference material at the end of this entry with links to the various places we visited. Rather than link inline, over and over again, I instead thought it would be more useful to have it combined in one spot. I've also included links to the tour guides (books) we used, and a couple we didn't because we forgot we had them. :)
Days 1 and 2: Getting to Rome
Our adventure began in the early evening of Friday, July 27th. According to the tour literature, we were allowed one carry-on bag and one checked item weighing less than 44lbs. So, we crammed all we could into our Kelty Cadence
backpacks and our smallish (22") rolling bags and headed for the airport.
Let me pause for a moment to elaborate on my packing. I'd had the fortune of traveling to Bangalore, India, a month before, so had taken advantage of the chance to try some packing tricks that seemed to actually work quite well. First off, I only traveled with 3 pairs of Ex Officio
underwear for the entire trip. I know, I know. You're saying "TOO MUCH INFORMATION, DUDE!", but I have to say, this is an important thing to note. Sure, briefs don't take up much room, but every little bit helps when you're traveling. For those concerned, I also traveled with a small bottle of detergent so as to wash my briefs daily. I also brought along nylon string with which to hang stuff to dry (invaluable). Anyway...
The bulk of my clothing was in socks and shirts. After we got there, I learned that I could have brought half as many shirts, though, as laundry services were available. As it was, I had a few shirts washed in Sorrento as a precautionary measure. Socks were of the greatest important, imo, because we did sooooo much walking. But, back to the travel day story...
So, our flight was overnight from Dulles (IAD) to Frankfurt. We got into Frankfurt and then made the ridiculous, absurd traversal to the gate for our flight to Rome. Because we did not arrive on an EU flight, we had to go through passport control and then pass through a different security checkpoint. All told, I think we walked about 10 miles from our B concourse gate, up, around, through passport control, over, down, through security, back across, down about 3-4 stories of stairs, then a loooooong walk (under the runways?), an elevator back up 3-4 stories, and then finally we arrived at the gate. *whew* Just telling it makes me tired!!!
Well, we finally got into Rome, and then proceeded to wait endlessly for our bags. Finally, the came and we were off to find our shuttle. I should also mention that there were 3 sisters from Toronto on our flight into Rome, and I noticed they had Contiki literature, at which point I inquired if they were going on the RSA (Rome, Sorrento, Athens) tour, too, and it turns out they were. :) Nice to have company!
Getting money was a pain, and it turns out to have been Citibank's fault, three times over. In fact, I still need to write a nasty letter to the president of the company to complain about this complete failure in customer service. Both in Frankfurt and in Rome, I tried to get a cash advance with my Citibank credit card. I had set it up in June prior to my trip to Bangalore, and it had worked like a champ there in India. Well, it refused to work in ATMs in Europe, saying the PIN was wrong.
I called Citibank from the hotel in Rome and found out the following:
1) I could not reset my PIN via phone (except from my home phone line, which was back in the US).
2) My PIN had been disabled because a confirmation letter had been returned a few weeks earlier.
3) Despite telling me everything was good to go, my card was not good to go. However, there was nothing that would have informed the average customer service rep that #2 had occurred. I, in fact, had to specifically ask to talk to a supervisor to get an answer.
4) Citibank didn't see fit to contact me (such as via phone, which they have on file, since they were limiting my PIN resets to that number) and tell me that a) the PIN was disabled, or b) that mail to me had been returned.
5) There was absolutely nothing the customer service supervisor could do to assist me to get the PIN re-enabled, even though I had done everything asked of me up to make sure it was ready to go for the trip.
In the end, I had to get a cash advance from Travelex at the airport in order to get us on our way. I then contacted my home bank and made use of my ATM/Debit card to withdraw money on a later occasion. It turned out later that the cash exchanges outside the airport actually did a credit card charge (instead of a cash advance), saving me money. If only I had known.
We finally arrived at the hotel after a disorienting and boring (well, visually - not traffic wise!) ride into Rome from the airport. We arrived around 2pm (after waiting what seemed like ages for our luggage). After settling in and freshening up, we asked at the front desk how to get to downtown Rome to do some sightseeing. This is where we reach Contiki disappointment #1:

We've since read that Contiki has a bit of a bad reputation as a party tour, and thus is not able to get nicer hotels in prime locations. As such, most tours end up with hotels well away from the main centers, which greatly inconveniences the tour group. For us, this played out both in Rome and Sorrento.
The front desk staff didn't seem to speak much English, but instead gave us a photocopied set of directions about which buses could go to where. This, of course, meant nothing to us. Walking was absolutely out of the question (no sidewalks and crazy traffic). We were quite frustrated. If we'd had a hotel in a better location, we almost certainly could have spent our first few hours exploring the city. Oh, well.
That night (end of Day 2), we met our tour manager and the rest of the group. Dinner was included after our tour manager, Franco, gave us an extensive run-down on the tour, the expectations, and made us pick our optional excursions asap. We opted into most of the optional dinners and activities, opting out of the Pompeii guided tour (so-so choice - we thought we were going to miss the boat and we should have grabbed a map before we started and, OH YEAH, the entrance fee was included in the guided tour, NOT in the overall RSA tour!) and the Capri tour boat (excellent choice - many folks got seasick, and Blue Grotto was inaccessible due to choppy waters).
Dinner at the hotel was decent, and we started to get to know folks, later hanging out for a while outside, chatting and chilling. All told, not too bad an evening.
Day 3: Rome with the tour

While Rome may not have been built in a day, we certainly made a good show of trying to tour it in such a short period of time.
Franco (our tour manager) had a massively insane day on tap for us on this, our first full day in Rome. First, we headed to the Vatican to explore it. It turns out that the last Sunday of each month, the Vatican Museum (Musei Vaticani) is open for free to the public. The line, then, was amazingly long. We stood outside in the hot sun for around 90 minutes, many of us getting sunburned. Suffice to say, none of us were adequately prepared for that wait.
The Musei Vaticani was a wonderful experience. You should definitely check out my pictures from the trip to see all the amazing sites. Simply put, the Vatican has to be holding the largest art collection that I've ever seen, with much of it painted onto the walls of the numerous halls and chapels. Simply remarkable. It's unfortunate, really, that it was so busy and that we had so little time there, because there was really too much extraordinary art to see.
After the Vatican and St. Peter's Basilica, we then moved on to a tour of Ancient Rome. Our local guide was quite amusing, pointing out gypsy girls who were (self-)employed as pickpockets. In one case, he yelled at them in an effort to warn a woman they were stalking. It made for great drama. Later in the day, in fact, we saw a group of gypsy girls (with a baby) running away covertly with a stolen purse. Reading about it later, we've heard that this is, in fact, one of Rome's top crime problems, and one about which the police have no desire to attend. Apparently the police aren't appropriately resourced to deal with it, which is too bad, really.
Anyway, we toured the Roman Forum, oftentimes having great difficulty taking pictures AND keeping up. There were several arches (all triumphant, I think) that had nice friezes. In ye olden dayes, it seems that there were words affixed using brass or gold letters, but which were long gone, along with most of the marble. Apparently the Vatican re-appropriated many of the materials when they started building their facilities.
The tour concluded at the Colosseum, where we really were quite ready for it to end (yet the guide kept going on and on and on). We had about 45 minutes before we had to meet our tour manager, and we definitely wanted to see inside the Colosseum. In order to do so, it was recommended that we go to the Palatine Hills visitor entrance to purchase tickets and then come back, as the line at the Colosseum itself was too long to make the visit feasible. We did this and were quite enthralled.

The Colosseum had a raised floor with an extensive underground network of tunnels/halls. Or such is my understanding from seeing it. This makes sense, I guess, as animals were released through the floor during spectacles, but one doesn't really understand that until you're actually there. It's a very large structure, too, with lots of seating. All things considered, it's really a rather remarkable accomplishment of architecture.
From the Colosseum and Ancient Rome, we then headed back to the hotel to freshen up. A couple hours later, we then met up again and headed to Piazza del Popolo, where one of the 12 ancient Egyptian obelisks has been set (the Vatican also has one). Popolo was an interesting square where several roads intersect. In particular, three roads radiate out from it and contain most of the shopping in the city. The square itself has large fountains at both the north and south sides, and there's a hill to the north with a balcony from which people can watch the sunset. There are also three churchs around it, with the two matching churches of Santa Maria in Montesanto and Santa Maria dei Miracoli flanking Via del Corso, which is a major thoroughfare through the city.
Much more could be said at this point, but I don't think it's warranted. We walked through Rome, visited the Spanish Steps (so named for the nearby Spanish Embassy), visited a large fountain (name fails me), walked by the Pantheon (home to another obelisk), over to Piazza Navona, and then hopped back on the bus to head to dinner.
Dinner was... an experience. The place we went was a dinner theater with "authentic" Italian music. We were very late in getting there (oops), the food was terrible, and the music was, well... not very good (better than the food) and not particularly authentic. This brings us to Contiki disappointment #2:

We had read ahead of time that the optional dinners might not be such a good use of funds. However, desiring to be social and not expecting to be acclimated enough to find our own food (especially given our lousy hotel location), we signed up for all the optional dinners. In the end, only the dinner in Rome was disappointing. The optional dinner in Sorrento was very good, as was the dinner in Athens with the local dancers.
Most folks went out clubbing after dinner, but we opted to head back to the hotel to crash. We were quite exhausted and jetlagged.
Day 4: Rome on our own


On the fourth day of our tour, we had a free day to ourselves. This was wonderful, and highlighted why we chose the tour that we did. One of the things that Contiki is known for, in fact, is that it allocates free time on the tours to allow people to explore on their own. I've come to really think of this tour as "Europe with training wheels" - after which we're now quite confident to go it on our own henceforth.
Anyway, we made a full day of it, wandering all over the place. Our tour manager had provided us with 2 round-trip bus passes per person, so we set out by public bus to downtown Rome. The bus terminated at Via Paola, as best as we could tell, just across the Tiber River. From there we set out on foot for the Pantheon. The previous night, Franco had told us that the inside was a perfectly spherical dome, well worth seeing. What he didn't mention was that the interior was also fully covered in yet more spectacular artwork, just as the Vatican had been.
From the Pantheon, we then tried to head for the Capuchin Crypt near Piazza Barberini. Unfortunately, I had trouble reading the map and keeping our bearings, so we ended up wandering for about an hour longer than planned (for a total of 2 hours). We finally found the Crypt and were frankly amazed. No photographs were allowed, but let me just say that it was the strangest, most macabre sight that I think I've ever seen. Imagine the bones of 4,000 monks being used to decorate 5 alcoves under a church in some strange, but beautiful, designs. Definitely worth seeing.
From Piazza Barberini we head back to the Spanish Steps and then started looking for a place to eat. We found a decent restaurant on Via del Corso, not far from Piazza del Popolo. After eating, we then headed to Popolo so that I could take a few more pictures, and then planned to hop public transit to head over the Vatican. Well, let's just say we couldn't figure out for the life of us where the tram or buses went on this side of the river. So, we walked. And walked. And walked. Actually, it only took as about 20 minutes to cross the river and make our way to the Vatican. Nonetheless, it sure seemed like forever.
At the Vatican, we first went to the Museum gift shop (Hanna has Catholics in her family for whom she wished to buy gifts), and then doubled back to St. Peter's Basilica so that we could do the tour of the cupola. Though this was one of the hottest, sweatiest, tightest, most claustrophobic climbs we've ever done, it was well worth it in the end. After the cupola, we also walked through the tombs of the popes (and St. Peter, allegedly). We walked around the Basilica for a little while longer, then headed out and caught the bus back to the hotel to refresh.
In the evening, we headed back to downtown Rome, and Piazza Navona specifically, for dinner. We ran into a couple other folks from the tour along the way, but the people they were meeting never showed, and so we all went our own ways. Hanna and I found a nice little restaurant with outside seating, where we gorged ourselves on the local delicacies (pasta, pasta, pasta). We tried, futilely, to find the gelato shop Franco had taken us to the night before, then wandered back to Popolo, before finally throwing in the towel for the evening.
It was a very long, interesting day. We were quite exhausted, but weren't too concerned since our next day was to be spent primarily on a bus, and then on a private beach on the Mediterranean Sea.
Day 5: Sorrento

This fifth day of travel was generally unremarkable. I have several nice pictures as we drove into the Sorrento area. The low point was getting pummeled by the sea when we tried swimming, getting slammed into the seabed and cracking my foot open on an exposed rock (an injury that is still healing today!). The hotel wasn't very nice, but was ok (better than the one in Rome). The beach was so-so, but not great. It was nice, however, to relax.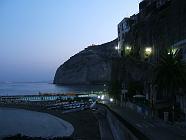 In the evening, we took an excursion with the group into Sorrento proper, wandering the streets, dropping off some laundry, sampling limoncello (liquor), and then heading to The Foreigners Club for dinner. We sat outside, overlooking the sea and sunset, and gorged ourselves on delicious pasta, strong limoncello, and white wine. It was a very nice evening.
Day 6: Isola di Capri (Capri/Anacapri)
I can't say that we looked forward all that much to visiting Capri. First, it entailed a ferry ride out to the island, which Hanna and I suspected would leave us seasick. Second, it was a small island, what all could there be to do? We had opted out of the island boat tour, which turned out to be an excellent choice (most folks were seasick to one degree or another afterwards, and only did the tour for the day, nothing else). As we headed over, we talked about paying to hop a ferry back early if we got bored.
Well, two things can be said about our day: 1) we weren't bored most of the day, and 2) it was hotter than hell!!!
While everyone else headed out on the boat tour (to the Blue Grotto, which ended up being inaccessible due to unacceptably heavy seas), we headed for the cable car that would take us up to the town of Capri. Once up at the top, we headed out for Villa Jovis - the primary residence of Tiberius when he ruled the Roman Empire. Jovis was a nice set of ruins and well worth the hike.

From there, we then headed down toward the Natural Arch, first stopping to eat lunch at a cute cafe with the nicest fellow I think we encountered in the entire trip. Oh, we also stopped to use the facilities, which were pay toilets with an attendant (and well worthwhile, thank you very much). By the way, as an aside, what does Europe have against toilet seats? Anyway...
After eating, we headed down to the Natural Arch (disappointing), then down further through some cave or another ("grotto"), and then down along a path to see the Faraglioni - a rock formation on the back (south?) side of the island. The sun was beating down mercilessly and kicked our butts badly. Frankly, if you go visit, I would strongly recommend against going to the Natural Arch and the Faraglioni, instead returning to town and heading over to Anacapri. Silly us. There are a couple beaches by the Faraglioni, but they're privately owned, costing EU$13 and EU$15 to get into. Ridiculous!
Perhaps one of the highlights was taking the bus over to Anacapri and then riding the single-seat chair lift to the top of Monte Solaro, where another Roman villa had been built, and from which you could see almost all of the island and back to the mainland. Unfortunately, the heat and humidity made the air extremely heavy and hazy, preventing much of a view.
After looking around atop Monte Solaro, we then headed back down to Anacapri, where I got more cash from an exchange (here's where they just made a charge on the card instead of running a cash advance), eating a sandwich (I was starving), and then heading back down to Capri, from whence we then returned to the port below, where we ran into others from the tour and hung out on the "beach" (if you can call a rocky shoreline such) until it was time to return to Sorrento.

That night was highly disappointing in the food department. We got to an experience an "authentic" pizza dinner. I'm a big guy, who had been out and about all day, so was quite hungry. Dinner amounted to a small portion of pizza and - I kid you not - one slice of pizza. Really?!? One slice?!? Sheesh.
A few of use retreated to the roof terrace after dinner to hang out. I brought a protein bar with me, since I was still hungry. We talked until midnight or so, I think (can't recall exactly) and then called it a night.
Day 7: Pompeii and the ferry trip (Bari to Patras)
Another day primarily spent in transit. We left the hotel in the morning (none too early) and headed to the ancient city of Pompeii. This is the famous city that was buried in AD 79 by an eruption from Mount Vesuvius, and thus remains well intact. We had opted not to take the guided tour. What we did not realize in making that choice was that our entrance into Pompeii was not included in the regular tour. Thus, instead of spending EU$13/pp for the tour, we ended up spending EU$11/pp just to get into the site. Oh, well. Recommendation: sign up for the optional tour of Pompeii.
We tried to wander around Pompeii on our. Unfortunately, I failed to get a map, so it was aimless wandering. It turns out that the site is ginormous, and very easy to get lost in. We came in by a small theater, but when we tried to leave, we mistakenly believed it had been the amphitheater. Well, guess not. We exited the site near the amphitheater and asked an attendant how far to the entrance. He told us that it was almost 2km away! With 20 minutes before our meeting time, we moved as fast as we could, with much concern, toward the entrance. We had not eaten yet, and we were expected to eat on our before getting back on the tour bus. Ack!
Well, we made it ok, even having time for a little shopping. Unfortunately, we seemed to have forgotten the book we bought (a nice overlay book that showed a current shot of Pompeii in a given place, and then had a clear, color inked overlay that showed what it used to be like). Oh, sigh...

From Pompeii, we then had a 2+ hour bus ride to Bari to catch our Adriatic Ferry to Greece. We arrived around 4pm, got onboard, got to our (amazingly small) stateroom, and then wandered around waiting for departure. Around 7:30pm (6:30pm Greece time), we got underway and headed out to sea. We ate dinner early (along with most of the others on the tour) and then hung out for most of the evening. The ferry had a (seriously lame) discotech on the top level (9), so we moved up there and had a generally good time until well into the morning (2am, I think?). We weren't set to arrive in Patras until 1pm, and didn't need to get out of our room until 11am, so there was really no rush.
Day 8: Corinth Canal en route to Athens
The stateroom did not have any windows, so was remarkably dark. I slept uneasily until about 10am when I decided we finally needed to get up for our 11am checkout time. As I've mentioned, the room was tiny - and so was the bathroom! For example, at a shade under 6'1", I could not sit down normally on the toilet, but had to shift my legs off to the right at a 45-degree angle because of the door and wall. Also, it should be noted that the WC doubled as the shower. Recommendation: remove the TP from the WC before showering, lest you drench it completely!
Anyway, the arrival was uneventful, we got on another bus and headed for Athens via Corinth. We stopped a couple hours later in Corinth to via the Corinth Canal and to have some lunch. Hanna and I ate souvlaki (our first of several times) and I had baklavas. MMMMMM... yummy! :) I also took the opportunity to purchase a new cap to protect my thinly-veiled scalp, since my Roma hat was looking quite nasty with sweat stains (thanks largely to the day on Capri).
We arrived into downtown Athens near Monastiraki, where we were literally dropped off in the middle of traffic, had to hop onto the curb, then cross the street through traffic, then walk a couple short (very short) blocks to our hotel. As it turns out, this was hands-down the nicest accommodations of the entire trip. It was also a hotel in a decent location for seeing the sites (even though a colleague from Greece has since told me we'd have been better off down by the sea - oh, well!).
Everything in Athens seemed to be very close by, so Hanna and I went out and walked around Plaka (shopping district) for a while, taking in the sites and sounds. Dinner was a built-in and kind of disappointing. More souvlaki, but not as good as we'd had in Corinth. That night, however, was a ton of fun. Hanna decided to turn in early, so I organized a meeting in the hotel lobby around 10pm, from whence we'd all embark on a night of clubbing.
Franco led us to Psirri and showed us a couple nice clubs. We wandered around after hanging out for a bit, dancing some, but then landing in a small bar later in the evening that exclusively played upbeat arena rock. It was awesome! We all sung ourselves horse before we left for the hotel around 3:30am. And we had a 7am wake-up call the next morning. This wasn't nearly as rough as a couple others had it, though. They went to one of the happening clubs down by the sea and ended up getting back to the hotel sometime around 6am. D'oh! :)
My impression of Athens is this: a good place to party, an ok place to see the sites, and that's about it. As was found the next day, most of historic Athens could be seen in a day. Better to enjoy the burgeoning nightlife instead.
Day 9: Athens (tour and alone)
As mentioned above, we had an early start this day. We picked up a local guide and then wandered in circles around Athens before we headed up to the Acropolis. We followed the guide for about 45 minutes around the Acropolis, and then had another 30 minutes or so to wander on our own. It was pretty much a drag, really. After Rome, I think everyone was tired of ancient sites and just wanted to chill out. From the Acropolis, we then drove over by 1896 Olympic Games stadium, where the first modern Games was held. They then dropped us off at Syntagma, where only a few of us departed to wander, eat, and so on. We ate lunch with a few other people and then split up, with only Alex joining us to go see more historical sites.
We greatly enjoyed hanging around with Alex, the tall, skinny French Canadian from Ottawa who had taught himself English by reading Harry Potter (huzzah!). From lunch (which, btw, was a nicely decorated Indian shop that seemed terribly out of place and was rather expensive) we headed to the Roman Forum, where we looked at the Tower of Winds, in particular. Then we went to Hadrian's Library, which had just been opened to the public (not much to see). After that, we wandered around, with me trying to figure out where the bar from the previous night (or earlier that morning) was located. Not wanting to believe Alex's directions, I took a few wrong turns and ended up at the Ancient Agora. We wandered around there, looking at the reconstructed stoa and pottery museum, then headed back to the hotel.
After refreshing for a little bit, Hanna and I decided we were famished and, recognizing the trend by now, decided we should eat, since dinner was unlikely to be before 9pm. Recommendation: Eat when you get a chance to do so, as you never know when your next meal might be, let along the quality or quantity. We had passed a nice Greek (probably touristy) restaurant on the way back to the hotel, so walked back a block and found it and had a very good meal.
Let me tell you about ouzo. It's a remarkably disgusting Greek liquor that tastes like anise (think black licorice). I already knew I didn't like that flavor of anise, but after lunch we were still hankering for something sweet. So, we decided to try a cake from the region of VERIO, which I think was called rastani. Ugh!!! It was a dense cake soaked in ouzo!!! So icky. Anyway... if you're really interested in ouzo, do a 'net search, I'm not going to provide the link here... *shudder*

Anyway, that night we had another optional (and highly recommended) dinner, complete with Greek white wine (very good) and traditional Greek music and dancers. All told, the evening was quite a lot of fun. After lots of pictures and a couple hours, we then headed back to the outdoor clubs where we'd started the previous evening. Hanna and I hung out until midnight, then headed back to the hotel to pack and sleep.
Day 10: Heading home
Our flight back home was not until 12:35pm, so we didn't need to get too early of a start. Alex was departing on the same flight as us, so we embarked together around 9:30am for the train station. The train was an interesting adventure. We took the blue line toward the airport, until it stopped and we were required to exit. As it turns out, the blue line was not running all the way to the airport (at least, not this day), so we had to wait 20 minutes for a different suburban train line to come through and take us the rest of the way. We were not alone in this situation.
Once we made it to the airport, the next question was "where's the Lufthansa check-in counter?". We eventually found it, in Terminal 1, at the far end (around station 149, I think it was). Check-in was uneventful, and we made our way (with Alex) through security to the gate to await our flight.
Let me just say, first and foremost, that I understand that smoking is not frowned upon in Europe. Ok, fine. But, still... to have an airport that is almost all open to smoking is, well, just so last century. Our gate was near a cafe in the airport where people were chain-smoking like it was going out of style. By the time our flight was called, I had a good start on a headache, not to mention being a bit whooped from the late night a day or earlier.
Hanna had finished the 7th Harry Potter book on the trip, so it was my turn to read it. I had gotten a start a day earlier, reading the first couple hundred pages. I made it through almost the entire remaining 550+ pages on the flight to Munich, and then over to the States.
In Munich, we bid goodbye to Alex, who was taking a side-trip to Poland and Germany before returning home. We were a bit stressed at having an hour to make our connection. Given my previous experiences with Frankfurt, I was not sure we would be able to make it. Fortunately, all the rumours were true about Munich: it's a much nicer airport. Clusters of gates had their own security checkpoints, so there were no long lines and we easily made it to gate in time. In fact, we even had time to get some drinks at the duty free shop before boarding.
The flight itself was fine, if not a bit nuts. There was a large contingent of Turkish teenagers who we believed were traveling to the US for a foreign exchange program. They were extremely boisterous and chatty. It was unlike any flight we'd ever been on before. Arrival was on-time, our luggage took foooooooorever, and customs was a cake-walk. We made it home, a-ok, exhausted.
Reflection on the trip:
All told, I very much enjoyed the trip. It kept us very active the whole time, which is really how we like to travel. My primary objectives for the trip (1. visit Europe with "training wheels"; and, 2. see the sites of Rome and Athens) were well-met. Surely, there were things that we wished could have been different, but overall it was a great experience.
Traveling with a tour group is an interesting experience, and one to definitely be sought by extroverts (and single males -- fellas, there were more than twice as many women as men on this tour!). For those who don't like large groups of people, then a tour group, even as small as this one was (about 25 people), is probably not recommended.
It took me a while to adjust to the jetlag, which slowed my getting out and getting to know folks. In the end, however, we greatly enjoyed the company of everyone there. We met folks from as near as Canada and as far as Australia (plus a couple Brits, just for a good measure;). I hope that friendships have been forged (gotta get this blog post finished so I can send out emails to everyone), and really look forward to our next travel opportunity.
Roma is a city that one could spend weeks exploring. Every church is rumoured to be full of artwork, the Vatican could take days on its own, and then there's the varied architecture. Athens was easily done in a day or so, though Greece itself is beautiful. I wish we'd had time to go on an extra excursion to some of the lesser islands. My colleague from Greece has promised to hook us up if we get a chance to go back.
Sorrento was lovely. I think I could live there, honestly. It was an easy-going city with good, reasonable shopping and just the right mix of new and old culture.
So, that's it... my entire recap of our first European adventure! We're now thinking seriously about taking a trip to London over Thanksgiving, and Hanna's enthusiastically torn between starting a family and taking a month-long tour of Europe next Summer. My guess is that starting a family may win out, but at least we know that we can survive ok over there. Maybe we can take a trip there between kids in a couple years. :)
I hope that you've enjoyed my writing here. As usual with long tales, it's gotten a bit dry toward the end here.
To quote an expensive, trendy part of American capitalism, The North Face: "Never Stop Exploring" :)
References:

Tour Books Used:

Tour Books We Had, But Forgot About: